The downside about renting an apartment or living in a college dorm is, more often than not, you can't paint your room. Unless you decorate, you are stuck looking at the same white walls all day long. Personally, I can't do that. I love color and whimsical decorations. As I mentioned before, I really couldn't do a lot with my Albany apartment because I didn't have the income to decorate, but next time around I really want to focus on that. My college dorm rooms always had decorations from wall to wall and I always thought that the RAs were going to call me out because in hindsight, it really was one big fire hazard. Then again, I think the kids who couldn't properly cook popcorn were more of a danger to my residence hall than my tapestry could ever be. 
Although the economy isn't doing anyone any favors, you can still shop around and draw some inspiration in order to find decorations that you'll be happy with! 
This curtain is from Urban Outfitters and costs $32-38 (depending on your window size). If you want a pair, you'll have to throw down $64-76. I absolutely adore these curtains but I also have to be realistic- I probably won't be able to afford them just yet until I land myself a jay-oh-bee that will let me indulge a little bit. Sooooo…let's continue on this journey.
These curtains are from Ikea and are $14.99 for the PAIR. The print is still whimsical and although they're white…if I wanted them to be green, I could just buy some Rit Dye and upcycle them! 
(by the way, the Rit Dye website has an AWESOME color matching tool so you can achieve your perfect color). 
See! Although I love those curtains from Urban Outfitters, you just have to look around and even if it's going to take a little elbow grease- you can still get what you want! If I got the pair of Urban Outfitters curtains, the bill would be an easy $64 bucks for the pair without tax. But! If I got the Ikea curtains, it's $14.99 for the pair, $4 for the dye…and it comes to $18.99 without tax. You save $45.01!
You can now use that money on other things!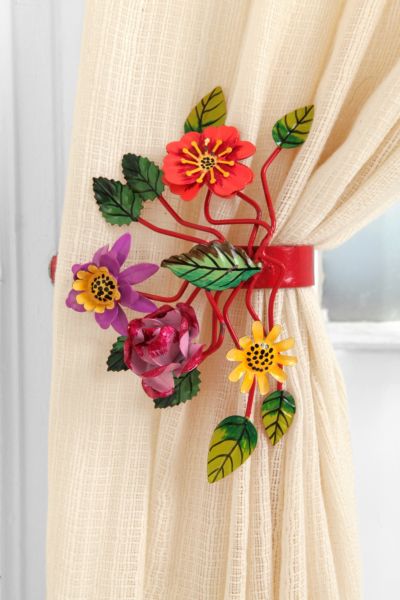 Such as these adorable curtain tie backs from Urban Outfitters! They are 2 for $24 which is an AWESOME deal and looks so much better than anything you could have purchased from Ikea, Pottery Barn, or Crate and Barrel. 
So let's see how we did here…the curtains from Urban Outfitters that I really wanted would have come to a total of $64-76 without tax. I already determined that the my curtain project would cost $18.99 without tax, which would save me $45.01. Now with these curtain tie backs, I still save $21.01! 
To top the whole window off, you can hang a mobile in the center of the curtain rod. Some say it's a fire hazard, I say it's charming. You can purchase this darling mobile from Etsy or make your own. I will probably be making my own- it's just more fun that way =D
This is how we can still have nice things ;D